AlpStories – Bespoke Organic Skincare

Experience the true beauty promise. Our bespoke AlpStories brand offers you the ability of creating something truly unique, personal and addresses your skin concerns and issues. AlpStories brings you the finest organic supreme blends that evoke quality without compromise. We do not store our products. They are made on demand, bringing you the freshest product possible. Premium formulations of impeccable freshness and purity as a hallmark of excellence.
Our own AlpStory begins in 2014 with our founders believing in something revolutionary; that every skin is unique and deserves its own formula and that business should be truly sustainable. People differ in their views and needs in taking care of their bodies and relationship with own skin health. And because we are all different, we also need a formula that meets the needs of our individual skin. We researched ways to use robotic technology for efficient customization and developed a unique system for bespoke beauty care. Today, we at AlpStories in Europe and in the United States, create each formula from scratch and only use carefully selected fresh and organic ingredients to ensure our products are gentle and safe with maximum effectiveness.
We've always done things differently and our commitment is manifested in cherishing the diversity of people and in rejecting a stereotype of beauty. We are experts in caring for all different skin types and take pride in knowing how to make them feel so good. We enrich our products with pure organic ingredients, never make false promises and never test on animals.
To dream of a perfect skin care product is to make one yourself
Choose from our lavish selection of the most exquisite, supreme oils and ingredients. Besides using only the best organic ingredients, AlpStories provides you with our BeautyWizard, your online tool to mix the custom-made skincare products of your choice. It acts as a smart factory on your phone or through our AlpStories website.
Your personalized products are immediately produced by our dual-arm robot, named Balthazar, which helps you to precisely mix the organic ingredients of your choice and even prints your personalized label.

There are millions of different variations depending on ingredients, fragrances, concentration, skin need… all individualized to your skin.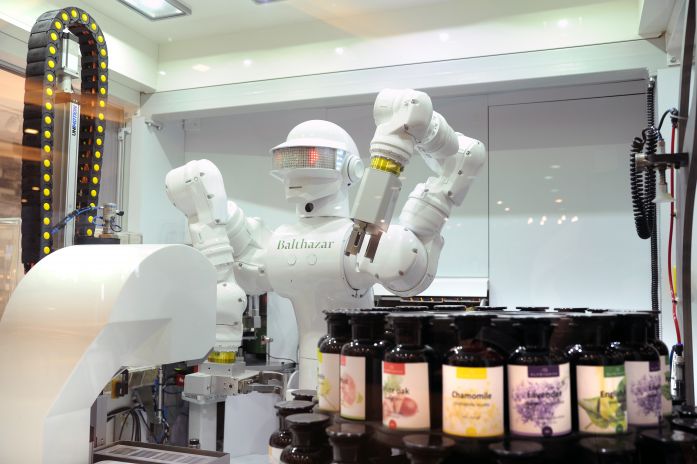 Your bespoke product is created to indulge and revive your entire face and body, taking you to the place timeless beauty begins. 
Our products not only nourish, protect and revive your skin, they also complement your unique image, your lifestyle and choices, nurturing you endlessly with all the natural benefits that our mother Earth offers so generously. 
Every story begins with the ingredients 
We ensure that the ingredients in our blends have purity and impeccable freshness. Every essential oil found in AlpStories Skincare products is of certified organic origin and every plant extract is natural in origin.  Skincare products that are silicone-free, without synthetic fragrances, artificial colors, or mineral oils are of the utmost importance to us. Our supreme essential oils come from the first fraction (meaning the best part of the plant extracting process and the highest quality substances). 
Know the true power of supreme beauty oils, active ingredients with formula made for you. All AlpStories products are organic, cruelty free, sustainable, vegan and are created without parabens, sulfates, artificial colors, synthetic fragrances, mineral oils and silicones.
At AlpStories, we are passionate about every single one of our blends – whether it be a custom blend or a pre-made one. All our ingredients are sourced very carefully to have maximum benefits. We believe that everything necessary to look beautiful is contained in nature, which is why we pride ourselves on manufacturing sustainably created skin care products that leave a low carbon footprint and do no testing on animals. Consciously contributing to our fauna and planet's conservation.
AlpStories' philosophy is about an ethical and sustainable approach to living in harmony with nature. Looking beautiful should not compromise your health, the health of animals, or the health of the planet. Our innovative robotic manufacturing system is also a pledge to our philosophy. Developed by a passionate team dedicated to healthy lifestyles, we use fresh organic ingredients from the Alps, one of the purest places on Earth.
What is the purpose of a perfect bottle? A perfect bottle ensures that its contents do not change over time. For AlpStories, the glass bottle was the obvious choice. The ingredients inside the glass bottle are perfectly sealed, ensuring that the first and the last drop of our facial cream, oil or body milk are of the same quality. But there's more to it. Glass is a premium recyclable material, and our bottles serve not only as 'a container' but also as decoration in your home and a wonderful gift. 
AlpStories' Quality without Compromise Vow: 
Impeccable freshness and purity as a hallmark of excellence.
Premium formulations 

where every ingredient in the mix complements one another so that an outstanding result can be achieved. 

A true beauty promise and a 

great experience when and after applying it on the skin, designed to indulge and revive.